...it would be
Plata Quemada
(English title:
Burnt Money
). Except for one
major
little thing, which I'll mention at the end.
The one on the left is Nene (which means "little boy") and the one on the right is Angel (pronounced "ahn-hel", which in any language obviously means *hair on fire* *douses self*).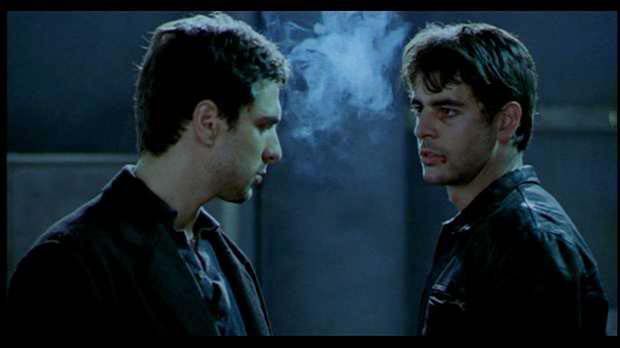 This is an Argentinian movie (based on a true story) about two men, Angel (
Eduardo Noriega
) and El Nene (
Leonardo Sbaraglia
), who are Bonnie and Clyde-type bank robbers known as The Twins. Nene is an ex-convict, the black sheep of an upper class family, and Angel "wasn't even from here", as the narrator cleverly puts it.
Angel hears voices, Nene only cares about Angel. And yes, my friends, they are lovers.
(Warnings: Spoilers. Lots of caps, R-rated. May not be work-safe)
( 'They bumped into each other for the first time in the station toilets where Nene used to go for sex.' )
Edit: I lightened the first bunch of caps.