perseph2hades
*comes up for air*
Know what this is?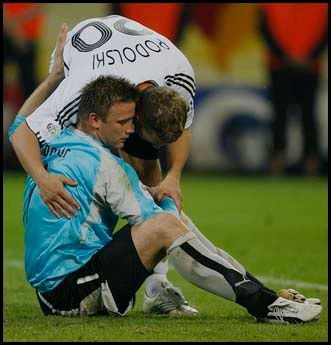 This is Germany's Lukas Podolski, consoling Poland's goalkeeper, after Poland loses to Germany.

What love. What angst. My God. It must be 2006, because you just can't make this stuff up.



We're surrounded by World Cup fever. And it seems quite extreme. So let's start with a little context.
On this world stage, you're only as good as your will to succeed, as your team, as the depth of your determination. There are a handful of supernova teams, Brazil, Argentina, Germany, arguably Italy, whose spot in the quarterfinals is almost guaranteed.
But for the rest of the world, it's the place to show yourself, to stop everything for your fifteen minutes of fame.
To meet your colonizers, your invaders, your allies and former enemies on an equal footing like nowhere else. It's the only stage on which Switzerland will ever meet Togo, or Trinidad England, at which no politician or politics is present.
It's World Cup Soccer. We're up at 5.30am over here to watch it, bleary eyed and delirious by day's end, Mexican for the duration because I'm here in Los Angeles :P, and it's bloody fucking madness. But for a brain-searing event that comes only once every four years, we wouldn't have it any other way.
And on top of all that, there's the sex.
It happens on the field when the opposing sides go at each other, howling and grunting and clawing. Feet moving all the while. As, despite all the hype, a player is nothing if he can't perform in those 90 mins. A team is scoffed at no matter their stature, when on the pitch they sink instead of soar. We hiss and moan and throw up our hands and scream at the screen until our team begins to glide, and takes us with them.
And did I mention, the sex.
I want to introduce you first to Brasil. There are players on every team who could give each player on the Brasilian team a run for his money on any given day. Sure. But there's a reason Brasil is considered the purveyors of the beautiful game. When they gel, it's like an orchestra, like the ball is tied by a string to the front, back and sides of their feet, and when they fake, the ball comes squeeing back to their feet.
See them do the samba.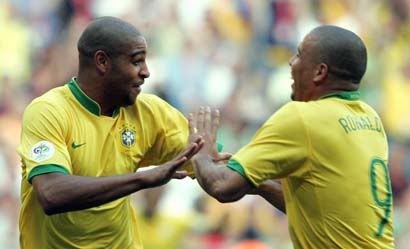 Meet Ronaldinho.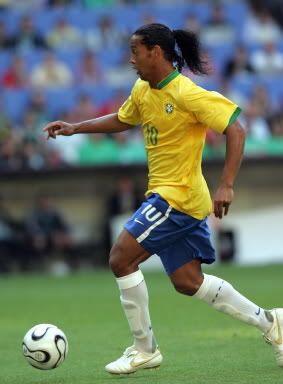 He makes grown men weep when he's on fire. When it's the ball and his feet and some freaked out defender, doing the beautiful dance. Or, as one commentator put it, you just have to giggle.
And what's best, this is what he looks like with his shirt off.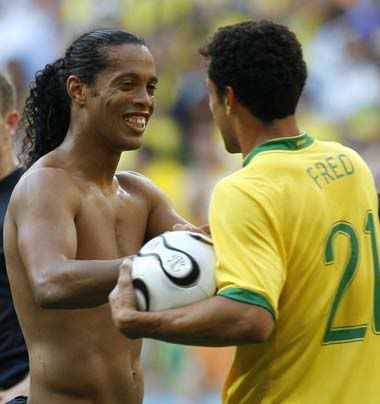 Next is Trinidad and Tobago. It was their first time in World Cup Soccer, and my God, the all-around love for them knew no bounds. Especially when their captain was asked questions about their goals for the tournament and he replied, with a happy smile, "We're just excited to play with the likes of David Beckham." Yes, lad, yes. Playing, having sex to the beat of calypso steel drums. I like to think Beckham would be all over that. Like white on rice.
Here's the Trini captain. The one who loves Beckham. The one with The Smile.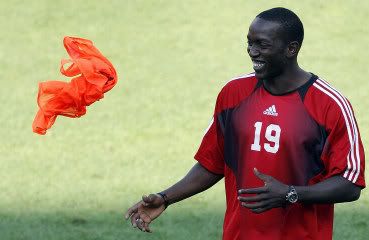 Now, a tale of unexpected love.
Mexico played Iran. This is Mexico's goalkeeper, the magnificent Oswaldo Sanchez. Whose ancestors, my sister says, were Aztec gods.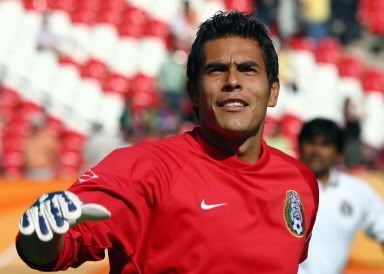 Oswaldo's father had died of a sudden heart attack a few days before Mexico was set to play. Oswaldo traveled back to Mexico for the funeral, and had only been in town for 30 hours prior to the start of the match. He was understandably distraught, but was keeping a strong exterior and trying to play on for his team.
Before the start of each match, the teams line up for a handshake with each other, just a formality. However, in this instance Iran's goalie, Ebrahim Mirzapour, came with roses. For Oswaldo's loss.
This is Mirzapour.*thud*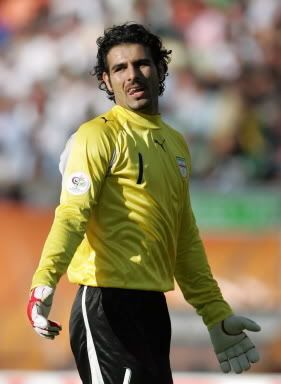 Oswaldo choked up, teared up, and their hug was tight, and fucking beautiful. Just imagine what Oswaldo must have been feeling at the thought of a man he hardly knows, their only connection being goalies on world cup contention teams, appeared before him with pink roses for the loss of his father. Stopped the line of players behind Mir completely while they hugged, and all I heard was my sister croaking,
Gawwwd.
*has died very, very much*
Next is Ecuador. Their team-love wasn't so much unexpected as quite simply the squishiest. They had come a long way to play in Germany, and frankly no one was sure how well they would perform. Kaviedes, a forward for his team, hustled like a maniac in their game against Costa Rica and scored a goal for his country. After a few trots he pulled out and
donned a yellow Spiderman mask
, an homage to a teammate who had recently died.
It's against FIFA rules, and could have cost him a fine, but the love, oh the love. Kaviedes looked like he was going to start crying, then his teammate Delgado brought him the love, holding and kissing him, and it was enough to kill you.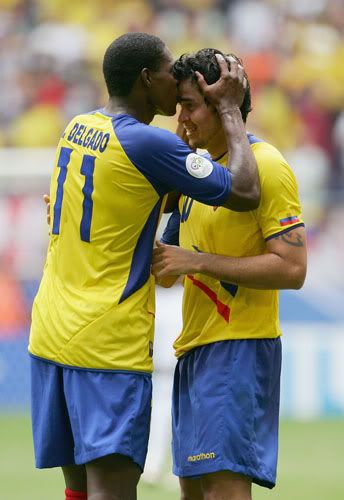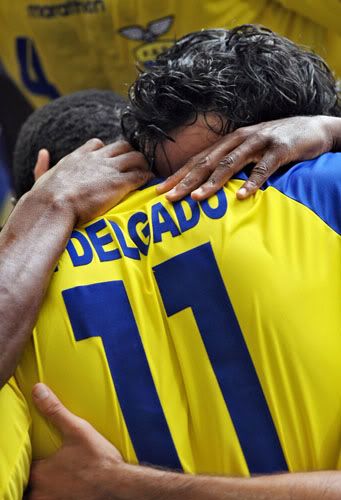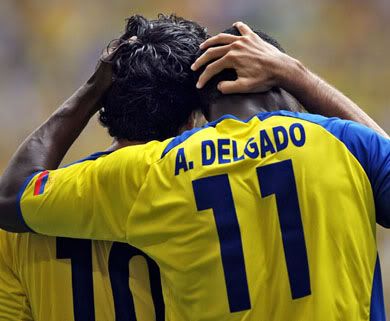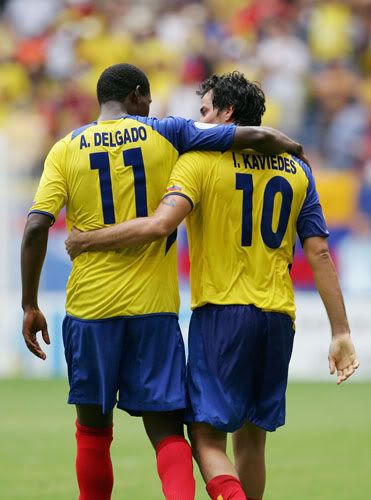 *has died a fiery death* Please leave roses.
After a week of play, Ecuador stands at the top of their group, over powerhouse Germany. But I tell ya, even if they're eliminated in the next round, we won't forget how well they fought for their place in this world cup.
The panty-melting-moment award of the cup so far, however, can easily go to Frei of Switzerland.
He scored with a perfect finish off a sweet cross from a teammate.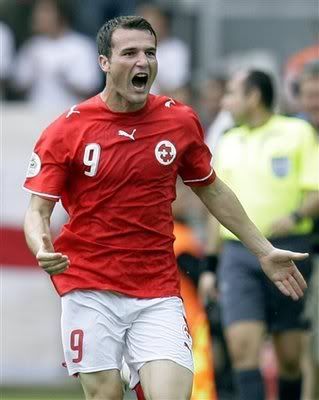 And while I was still shuddering with delight, I watched with a slackening jaw and explodey heady as he hurtled towards #22 for Switzerland, Yakin. For him there was no one else in the world, and when he jumped that man, he jumped him
like
no one else existed. They both went down with a thud.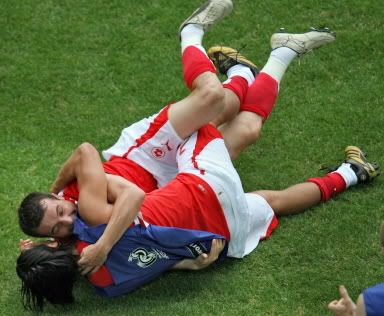 It's driving me crazy that I have no pictures of it, but Frei's hand gripped the back of Yakin's head in a deathgrip, and I swear he was going for a ferocious I-just-scored-Switzerland's-first-World-
Cup-goal-since-1994 face-sucking, when they got piled on and the camera got obscured. *angst* But as soon as they stood up, Frei planted a hard smooch on Yakin's face before running back into the game. *pants* Soon, they were reunited when Yakin was subbed in.
Loooooove.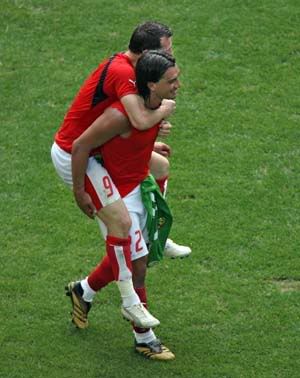 *deep breath* Someone save the dolphins. I'm about to squee my head off.
Some more Swiss love. ooofff. Great big goalie.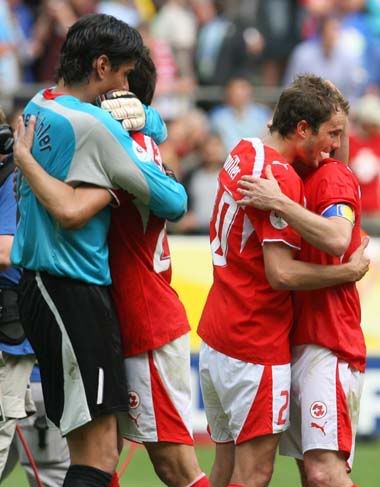 How smitten is this Togolese player with Yakin? *laughs ass off* *moans*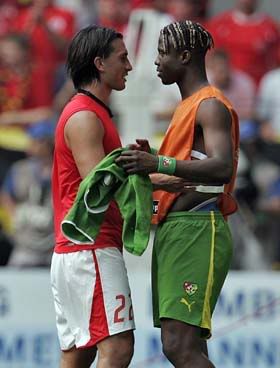 But the winner of the tournament's you-can't-make-this-stuff-up award:
"In twenty seconds I'll be around your neck."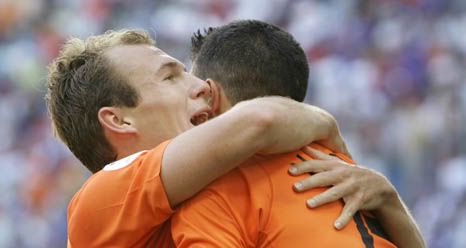 These words were whispered to Van Persie by Robben [the Netherlands], seconds before Robben took that 23rd minute searing free-kick against Ivory Coast.
I had no idea Robben had said those words to van Persie, but the commentary up till then had hinted at animosity between the two. So to later read that Robben had whispered those words to van Persie at the moment of that photo.. when we all were worried about the tension between them... *laughs weakly*
And when Robben
did
score, he did more than wrap his arm around Van Persie's neck.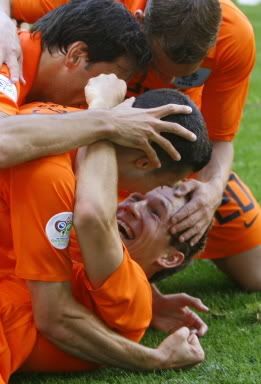 Sexiest god damned thing ever.
To counter all the love, but dear
God
not the sex, meet the Italian team. Of the scandals and the angst and the slutty gold lamé.
The angst..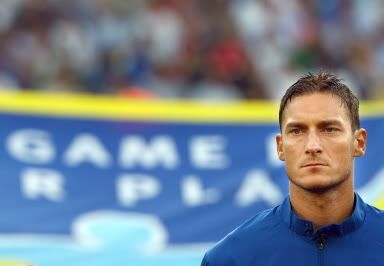 ..oh, lord the angst..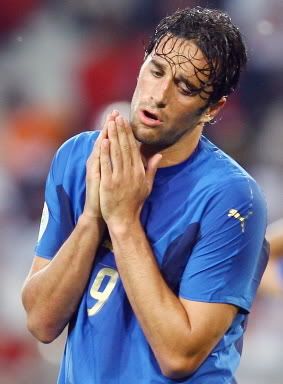 ..aaangst..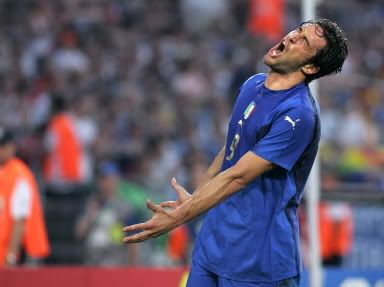 ...such
angst
.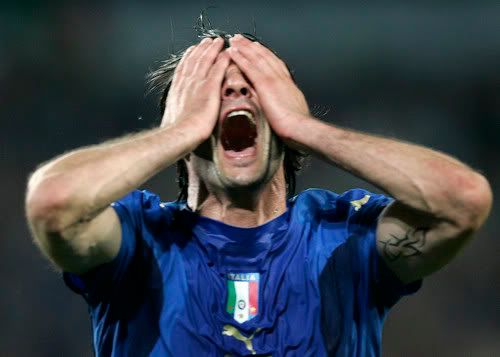 Every missed goal, the end of the world.
But once they score, sweet music. Here's the very young (24) and scorching hot Gilardino playing his violin after putting one in against the U.S.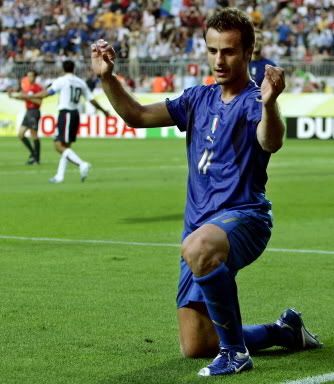 Iaquinta's later goal.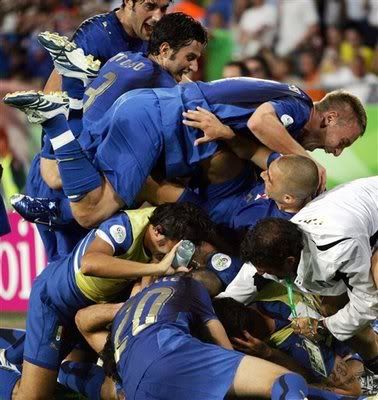 See the gold lamé? Truly inexplicable. But easily the best
group fuckers
pilers-on in world cup soccer.
Then of course we have the Spanish boys.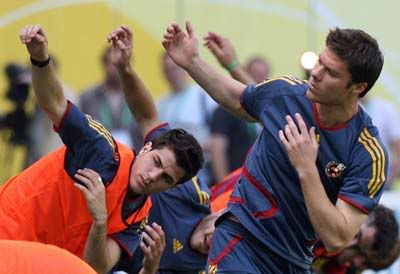 Ahh... For my boarding school days, for the sex. But most of all for their jawdropping comeback against Tunisia. 0-1 at the half to a 3-1 victory. They never stopped moving until the job was done. That, I say, is nice. *purrr*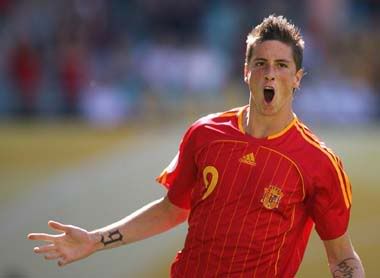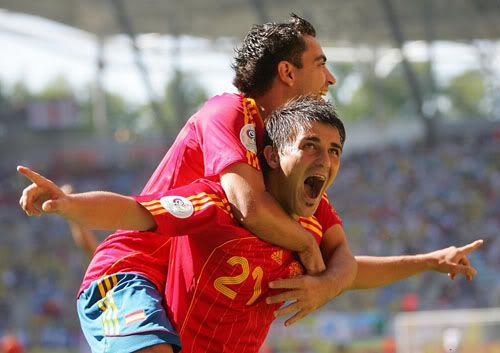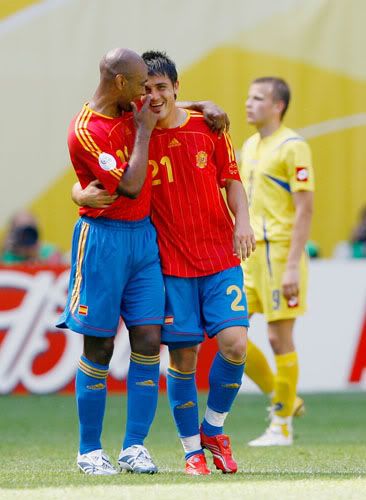 And so, my friends, The Beautiful Game.
The U.S. sweethearts.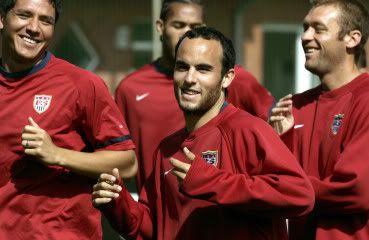 The goalkeepers of Poland.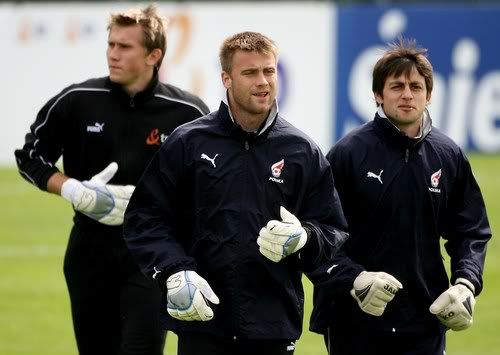 The eternal optimists of Tunisia.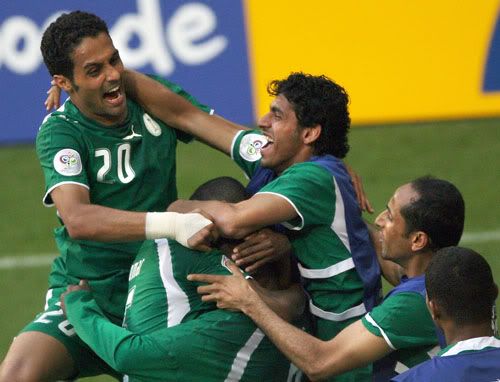 ...and their
*guh*
midfielder, Namouchi, who, with that body, could possibly make some Aussie rugby player very happy someday.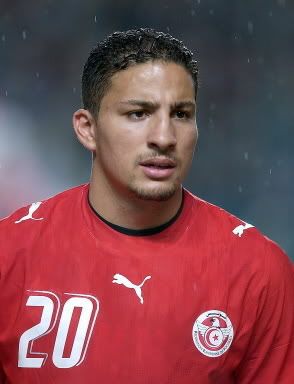 And the darling Australians themselves, coming in with enough rahh-rahh for two teams.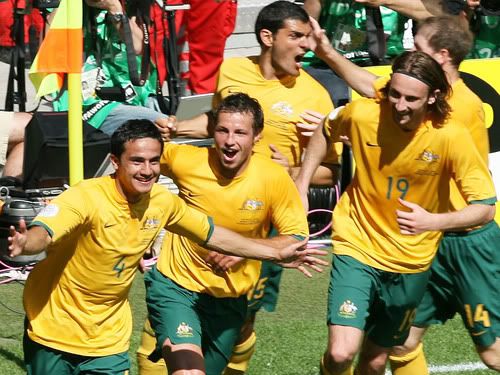 My darling Luis Figo of Portugal. *soothes*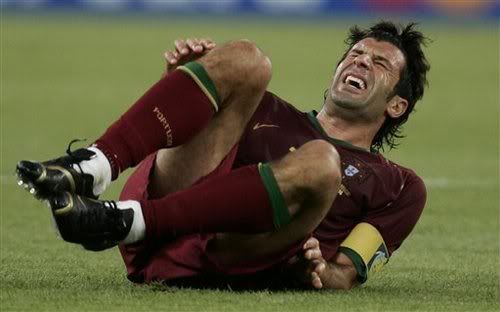 With his fellow Portuguese hotties.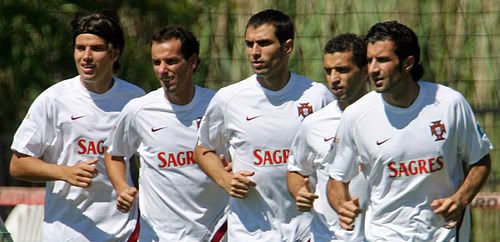 ...whom I would like to introduce to Iran's striker Ali Daei and see what beautiful games they play.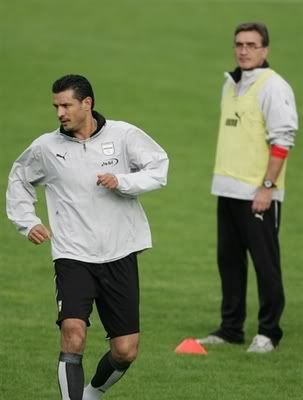 Daei and all his fellow Iranian hotstuffs, in fact. Of the dark hair and dark complexions and chiseled jaws.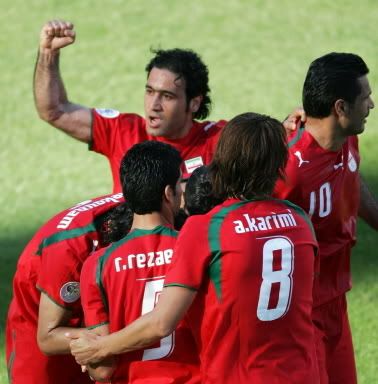 Let's not forget the referees. Who have a very tough job watching those men tangle with each other all day on the pitch.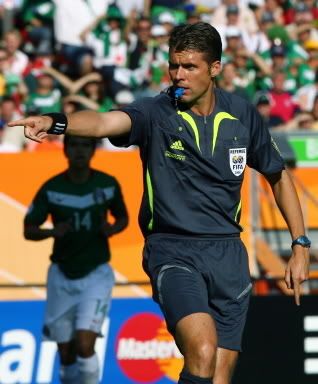 Or the exchange of shirts at game's end. Always a beautiful thing.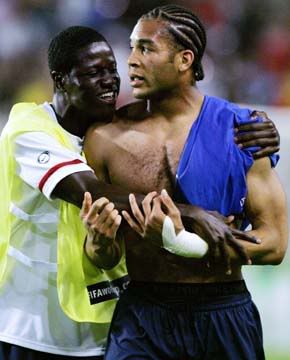 Unless you lost.
And last, the crazy Diego Maradona, in love with his team.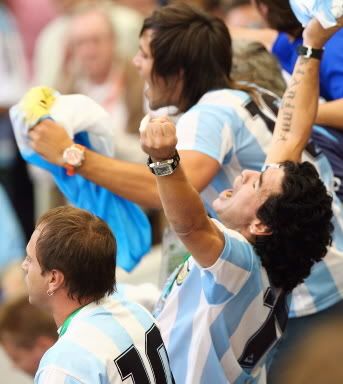 But before I leave you, and God forbid I neglect, here's the porn.
My Adidas "Nothing is Impossible" fantasy football team.
England's captain..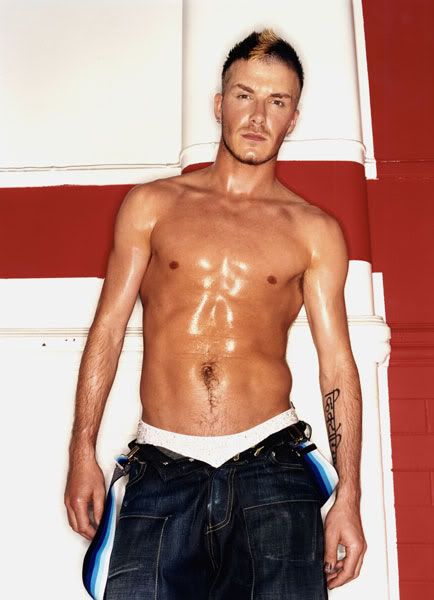 ..versus Sweden's midfielder..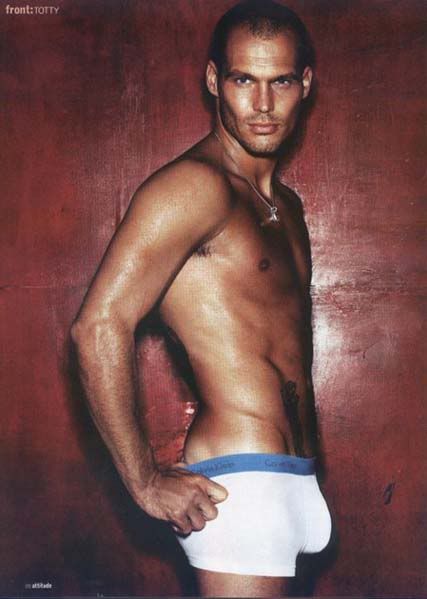 ..topped by Italy's captain.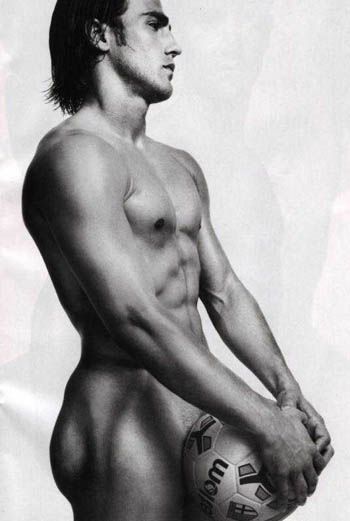 ~*is done*~
Edit
: It almost happened.
The Beckham/Ljungberg moment.
---
Photo credits go to the very resourceful ladies over at

faces_fit
,

orlisbunny
, and
fifaworldcup.com
. The Robben/Persie quote is from
worldcupblog.com
.